Guest: Mackenzie 2nd Year Psychology Student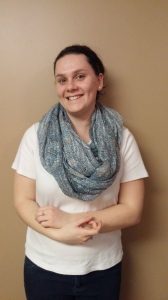 "You just get to hang out with people and talk about art…even if you don't know anything about art." – Mackenzie on Kitchen Conversations
Student Scale: 4/5
Last Thursday night I convinced my roommate Mackenzie to join me for Kitchen Conversations at the Kamloops Art Gallery. My task had been to find a student unfamiliar with the programming and get their impressions of what KAG has to offer. Being the cynic that she is Mackenzie did not start off with high hopes. Right off the bat she questioned me about what the night had in store and begrudgingly changed her outfit to something more "art gallery appropriate". I'll admit I had my reservations about the night as well. Before joining the #TRUmeetsKAG team, I'd had little to no interaction with my local art gallery. Since meeting some of the staff however, I was inclined to keep an open mind.
We arrived a few minutes early and took our seats in the circle of chairs assembled in the studio space. Immediately we were greeted by our guide for the evening. He greeted us, offered us tea and got our names. Internally I applauded whoever's idea it was to have tea on hand. Tea automatically = safe place.
Once in the gallery, our guide began giving us an overview of the first work we arrived at. His commentary involved a brief background on the artist and the work itself. He then allowed the group time to absorb the work and then opened up the conversation. Our tour group size worked perfectly for this. The seven of us formed a semi-circle around each work. Each of us were then able to share our own thoughts and criticisms.
We considered our group to be well-balanced as it consisted of: fine arts students, a young parent, grandparents, and of course ourselves. Throughout the evening, it was evident that our varied backgrounds gave way to differing opinions, however we were all able to talk through our contentions and biases. Every point of view was heard, valued, and respected. Regardless of the fact that we did not all view the exhibit in the same light, by the time we returned to the studio it didn't matter. Sipping on our teas we began lengthy discussions on a variety of different topics from generational bias, to child beauty pageants.
Overall, I'm giving the night 4 out of 5 on the student scale. By this I mean that I think this is a great event for TRU students to attend. Not only is this a free way to get out of the house, but it provides an opportunity to just speak your mind. As a student, I know how limiting the classroom can be at times, you have to stay focused, on topic, and on schedule. At kitchen conversations, everybody just gets to say and feel whatever they want, while still learning something valuable.
From Mackenzie: "It was a really good experience! I liked the [exhibit] and the tour. I liked our tour guide, and how everyone was really respectful of each others opinions. It was nice at the end to have the light refreshments, and how we just got into these really deep conversations. It wasn't even really relating to the art anymore, but the art initially like…started all of that! I would recommend it because it got you out of your comfort zone, it made people feel uncomfortable. I definitely feel like it was something I would recommend you do with a friend, because I feel like it could be intimidating if you're not familiar with any of it."
Recommendations: Our only recommendation we had was an idea the two of us came up with whilst back in our own kitchen. The easiest way to get to students? Professors. Mackenzie and I really liked the potential of having professors involved with a tour. In the fields of sociology, psychology, anthropology, etc. there are numerous links that could be made to the themes in any given exhibit. We thought it would be great to see tours of the gallery established as part of a course. Perhaps a particular piece on the tour is a prompt for a creative writing class. Maybe a professor leads a tour in tandem with a gallery guide and offers their expertise on a topic of interest. Regardless of the form, we see the potential with this program to bring the gallery into the classroom.